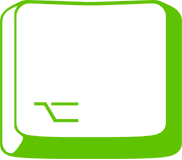 copenhagen alternative art fair 2006's website
is a beautiful example of web design. Its aestehetic simplicity does not disturb but actually emphasises the clarity of the site. It makes you feel like clicking and exploring the contents ...but only after you have let your eye be spoiled by the meta-esque design.
One of the best-designed websites, I have ever seen.
The artist behind it is Christian Yde Frostholm. You can see other projects of his here. Enjoy! It's art!