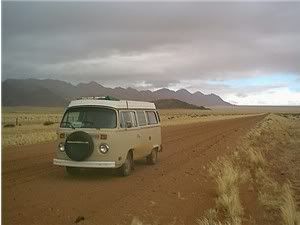 Imagine...
You quit your job...
And leave your comfortable house...
along with your predictable life...
For what?
This is the story of a Latin woman, her gringo husband, a 1970's claustrophobic hippie van, and the whole wide world.
Amanda & Richard Ligato decided to leave their hum-drum everyday routine and set out on an adventure of a lifetime. Leaving behind all the mind numbing comforts of home and the security of the familiar they embarked on a three year overland trip with the goal of discovering first-hand how others find joy in life. The experience changed them forever.
Read about their achievements on
www.vwvagabonds.com
— inventive name by the way — these are, in my opinion, some of the persons to admire on This Planet.